Shasta Springs - Forgotten Resort
---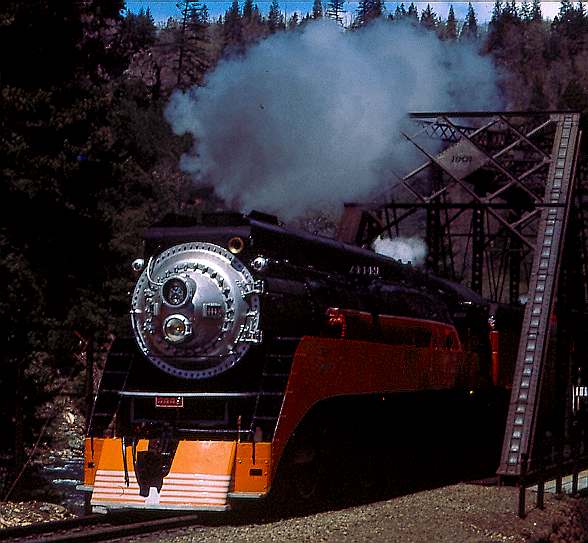 presented by Kenneth R. Clark
Mt. Shasta was the Centerpiece of Southern Pacific's Route of a Thousand Wonders.
The forest, and rivers full of trout and salmon flowing in all directions, promised a memorable vacation.
But deep underground, water flowed from the mountain and the best of it reached the surface along the banks of the Sacramento River Canyon above the railroad town of Dunsmuir, "Home of the Best Water on Earth".
The best springs were the source of famed "Shasta Water", soon travelers on the Southern Pacific had to stop and sample the Shasta Water from "Shasta Springs". The water was shipped in special cars to far off cities. The Springs are at the base of a steep canyon, there was barely room for a few buildings and the trains stopped right on the main line to allow the water tasting; freight trains had to wait to pass.
Eventually tourists were provided an opportunity to stay at a new resort built on the top of the hill above the springs. The slope was steep and to reach the top, a cable car railroad was built from the station up to the resort. In later years, a ride on the cable car was the reason for a visit to the resort by motor car. In the early 1950s the resort was sold to a religious organization, the station and the cable car were dismantled. Water still flows from the springs.
The following pages are a photo album of Shasta Springs memories. Hopefully it may never be complete as long as someone is willing to share another piece of 'Springs' history, I will post it. Enjoy your visit to a world over half a century ago.
Coming of age as an Espee fan. Or Tales of the SP Locomotive Simulator.
The Foamer and the Hill
Updated 11-9-08
Shasta Springs Guest #
Do you have Shasta Springs memories and photos to share? Contact me by clicking here.